Disinfection Services for Your Company in Mason, MI
Clean your commercial property in Mason, MI, with help from the Paul Davis crew. COVID-19 is a legitimate threat to public health and we're doing our part to help you make your business safe by offering industry sanitation services. During this global pandemic, we're in a unique position to offer the extensive cleaning services our community needs to stay safe.
Maintaining Safety for Your Business or Managed Commercial Property
Paul Davis makes your health our top concern, especially during this pandemic, which presents such a widespread danger to your organization, employees and customers. We're constantly monitoring updates coming from the Centers for Disease Control and Prevention (CDC), World Health Organization (WHO) and first responders in the medical field for the latest guidance. Therefore, we can better execute sanitation procedures that are instrumental to the health and safety of your company.
We Take the Necessary Steps for You
At Paul Davis, we assure you that we practice all the necessary safety measures in keeping good hygiene. We follow the guidance set by the CDC and wash our hands on a regular basis for 20 seconds with soap, put on hand sanitizer, maintain a recommended distance of six feet from people and sanitize surfaces that are touched on a consistent basis.
Our goal is to offer safety to organizations within the Mason, MI, region, and this is even more critical with COVID-19. This is how we can help out your business:
Our expert contractors will sanitize your commercial space by applying disinfectants thoroughly.
We are EPA and FDA approved to combat most common viruses and bacteria.
We meet stringent standards.
Help Us Keep Everyone Secure
For the purpose of keeping everyone safe, you can help us out with things too. Prior to us coming over, you can address any difficulties you have or even ask us to take special precautions. Please inform us if anyone has experienced complications with their health such as a cold or flu. We're used to sanitizing and using disinfectants, it's part of our job every day. We have the tools to eliminate viruses, bacteria, microbial growth and other pathogens, so you can rely on us to provide cleanliness for your building.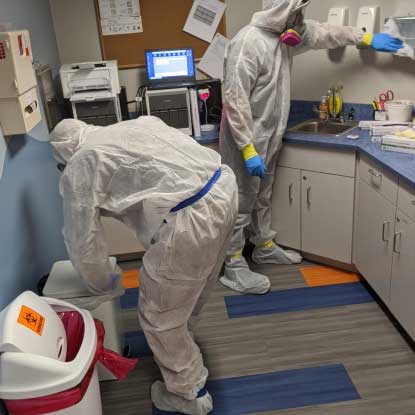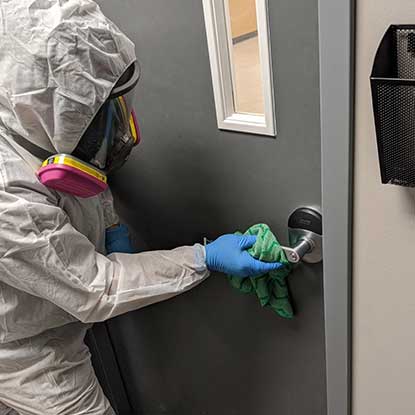 Reach Out to Us Today
Viral and bacterial infections are a major threat in the world today, but having a sanitation program will help eliminate the risks in your building. Call Paul Davis now at (517) 465-3096 and our expert technicians will help you fight COVID-19 by making your facility safe. We are expertly trained for sanitizing buildings and we'll provide you with quality results.