Disinfection Services for Commercial Properties in Mid Michigan & Ann Arbor, MI
Our professionally trained teams are certified by our Trauma & Bio-Recovery or the National Institute of Decontamination Specialists (NIDS) to get rid of illness-causing bacteria and viruses throughout commercial properties. We handle outbreaks like COVID-19 with extreme care and persistence in order to make your commercial space safe during these hard times. Let Paul Davis help your business stay in business and keep your employees from harm's way.
Keeping Your Company Safe
These are some of the things we do to protect companies in the Mid Michigan & Ann Arbor, MI, community:
Applying disinfectants and cleaning: Paul Davis does this with regularity using industry-standard tools that are designed to kill pathogens and viruses, such as COVID-19.
Taking the correct measures: We'll do our due diligence to make sure that our staff is in good health and do what's necessary to protect you from infection. We wear face masks and help prevent bringing contaminants into your home by putting covers on our shoes.
Provide information: We'll provide information about precautions you can practice to keep everyone's health intact. Our staff is available for questions in regards to the coronavirus and we'll provide answers in adherence to the most up-to-date information available.
We Stay Safe for You
Furthermore, Paul Davis uses expert cleaning methods that are more effective than traditional ones. These involve:
ULV Fogging: This is a precautionary measure that takes care of walls, floors and other horizontal surfaces.
Fogging with Horizontal Surface Wiping: For surfaces that experience a lot of contact such as desks, door handles, computers, etc.
Fogging with Full Wiping: Industry authorized practices for validated cases of coronavirus. This is a thorough cleaning service that applies disinfectants to your building.
Help Us Keep Everyone Safe
If any employees are experiencing cold or flu symptoms, please let us know in advance. Paul Davis specializes in cleaning and disinfecting a wide range of commercial properties across the Mid Michigan & Ann Arbor, MI, community. You can depend on us to eliminate pathogens, microbial growth and viruses from all surfaces.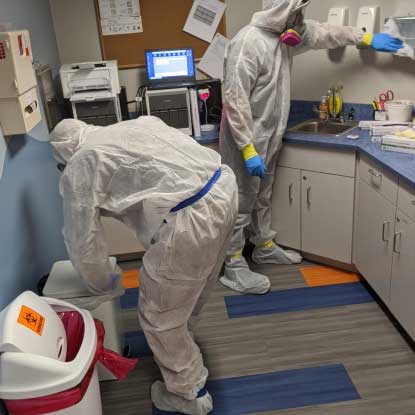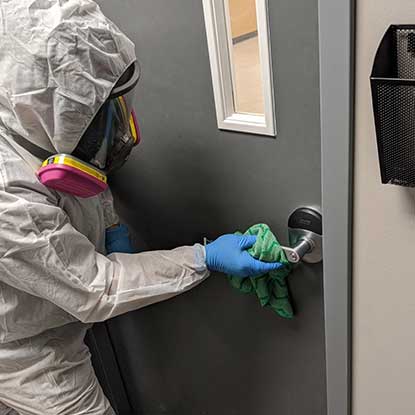 Contact Paul Davis Today
Today, viruses present a significant health hazard to our communities. Commercial decontamination services are excellent for recovering safety and serenity. Contact our experts contractors at (517) 465-3096 to learn more about the precautions we're taking to address this pandemic. We have the professional training needed to completely disinfect your building.